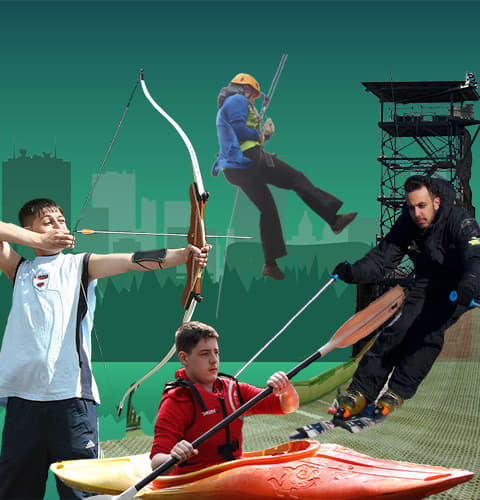 News.
We have re-opened on the 4th July with a limited selection of activities.
All of the activities will need to be pre-booked online. We will not be able to take any bookings upon arrival at the centre.
Holiday Camp is Back.
Following the rules changing last week Holiday camp is now back for the Summer holidays with a revised format. 
More info
1 Hour Recreational Skiing.
If you can already ski to the recreational standard (able to perform linked turns, control your speed and use a drag lift) then you can book onto this session. 
More info
Disc Golf
We are re-opening our 9 hole disc golf courses! Great fun for everyone in the fresh air!
More info
Recreational Climbing.
If you are missing the indoor walls why not book a Rec climbing session on our Pyramid wall, with over 20 routes to choose from it will easily keep you busy for the 2 hour session. You will need to bring all your own gear and be confident in setting up. Or just boulder on the lower sections. 
More info
30 Minute Tobogganing Family Session
While we are unable to run tobogganing for individuals we are now offering exclusive use of our toboggan slope for 30 minutes for a family group of 6 (including adults and children)!  
More info
To make our re-opening possible we have made some changes to our operating procedures to ensure the safety of our customers and staff. Please read all the information upon booking so that you are prepared when you arrive. 
I did the Beginners Ski Course which was split into 3x 2 hour sessions on Monday evenings. It was a fantastic experience. The facility is in great condition, the staff... read more are friendly and welcoming. We were in a group on our own for most of...More

CamboTheGiant


1/23/2019

Took 3 grandchildren, 5 (birthday boy), 3 and 2. They LOVED IT!! Not to busy which was good. Lovely slope for them to go on. The 2 year old sat... read more with his big brother and had a blast. All 3 had a great time and...More

SaraVF


12/27/2018

My now very grown up children used to enjoy Ackers in the '70s and '80s and I returned with my 12 year old grandchild with some trepidation.Like revisiting a treasured... read more haunt of the past, would Ackers live up to its great expectations? The anticipation was...More

aflangrick


10/10/2018

we went on an open day where u paid a set fee, about £17 I think, and could do all the activities u wanted. I expected to miss some due... read more to queuing but we went and did everything, ski lesson, zip, canoeing, free fall thing...More

huntmandy


10/08/2014
We are an outdoor activity centre located in Birmingham! Join in with the fun and excitement by choosing any of our activities.
All of our activities take part in over 75 acres of diverse landscape and habitats ranging from open grassland, woodland and marsh cut through by the River Cole, the Grand Union Canal, and Mainline Railways. This creates a fascinating area to have a great outdoor adventure. We are described as a hidden urban oasis, a green gem that overlooks Birmingham city centre.
a 100 metre long ski slope, with nursery slopes and a 25 metre toboggan slope
3 climbing walls including a 20 metre high tower which also homes our zip wire and fan descender
a fully equipped, self-catering residential centre
a canal basin perfect for canoeing, kayaking and bellboating
also 2 archery ranges, team building field, bushcraft survival zone, jungle challenge obstacle course and much more!
We are located just 2 miles from the city centre and are easily accessible by car and public transport! Click here for more details on how to find us.
Ackers Adventure is a charity that exists to promote and engage people of all ages, abilities and disabilities in the regular pursuit of outdoor adventure activities.
Here at Ackers Adventure we offer a plethora of fun and exciting activities for you to enjoy
Book your next
adventure

online today!
---